EGYM+
EGYM Premium is now EGYM+
and is available to our studio customers free of charge!
Sign up Here
EGYM+ Is the Added Value for Your Customers That Will Boost Your Studio's Success!
Why is EGYM+ so well suited for making money? Targeted training is crucial for long-term training success and thus for your members' loyalty as well. Only those who see progress will keep coming. However, most lack the sports science expertise, and few are willing to invest hundreds of euros for personalized support through regular personal training. So, what can be done? With its personalized training programs, EGYM+ offers real added value for customers, providing a broad base for you to make money.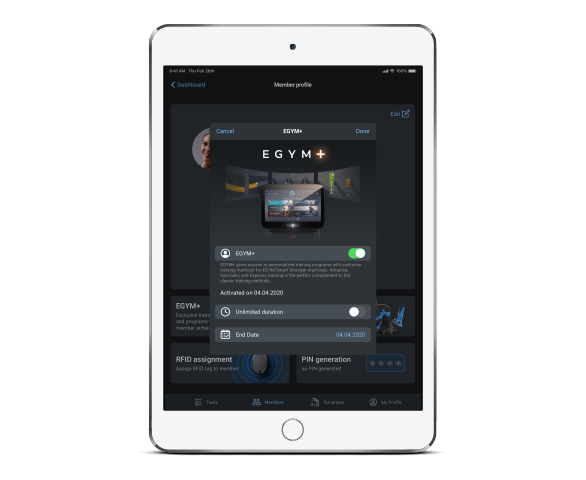 More revenue: higher proportion of higher-value memberships.
Increased member loyalty: more satisfied customers who achieve their goals.
Additional sales opportunities: customer requests from existing customers.
New members: customer requests from new customers.
Benefits for Your Members and Your Studio
Benefits for your members
With EGYM+, you offer your members optimal training that is intuitive and uncomplicated. They select their personal training goal and receive support to achieve it. Parameters such as training method, periodization, reps, and weight are automatically tailored to their goal and their training level.
General Fitness
Rehab Fit
Metabolic Fit
Immunity Boost
Athletic
Body Toning
Muscle Building
Weight Loss
Benefits for your studio
The EGYM+ training programs can be quite simply and individually switched on and off for individual members, giving you the freedom to decide how to integrate EGYM+ into your membership types: for all members, along with the use of EGYM Smart Strength machines, or in a separate membership.
Have You Unlocked EGYM+ Yet?
Success Factors for Making Money With EGYM+
Make existing members aware of EGYM+ and upgrade them to higher-value memberships




You can do this by giving a retail presentation or addressing your customers personally in the studio, as well as by sending newsletters and emails. Long-term results are achieved with marketing materials in the studio since they constantly trigger customer inquiries that can be used in the sales pitch (you can find the right materials on EGYM+ for your studio on the EGYM marketing portal).

Possibility to introduce EGYM+ to all members via the new EGYM Trainer app; integrate the EGYM+ concept into the process chain for new customers


That way, you can ensure that all members know about the new offer and as many members as possible opt for a higher-value membership.

Schedule regular check-ins with members via the process chain function of the new EGYM Trainer app


Doing so allows you to regularly address the achievement of targets and check that your members' training goals are up to date and adjust them if necessary.

Integrate EGYM+ directly into the first studio tour for interested parties


The personalized training programs and targeted training methods will allow you to win over prospective customers, increase the completion rate, and sign up higher-value memberships.

Create a fictitious male and female demo account with EGYM+ memberships and make their RFID bracelets easily accessible at the counter


This will allow you to quite simply and quickly show EGYM+ to prospective and existing members: simply adjust the height in the Trainer app and send them on their way!




Tip: use a color mark to make it easy to distinguish between the two bands.
Using EGYM+ in Practice
Essentially, there are two options for activating EGYM+ for your members.
You have to choose one of the following variants for your studio:
Via the studio's management software (compatible software required)
Via the new EGYM Trainer app (up-to-date version of the EGYM Trainer app required)
Note: both options require a one-time setup, even if your studio already uses the precursor "EGYM Premium." Simply touch one of the "sign up here" buttons to log in on this page and our team will contact you for the necessary steps.
1. Using the studio's management software to manage EGYM+
Requirements in the studio
This feature requires that you set up an interface to the studio's management software. Currently, this interface is supported by the following providers in Germany, Austria, and Switzerland:
Aidoo, easySolution, M.A.C. Centercom, TAC, Magicline 2.0 (from Q4 2020), Hector (from Q4 2020).

Member activation
Members associated with a membership type that includes EGYM+ will automatically receive EGYM+ when the contract is created/assigned in the studio's management software.

Making money with EGYM+
EGYM+ access can be linked directly to a higher-value membership type in the studio's management software. In this case, the payment method stored there is used for billing purposes.

In short: ideal for automatically making money with EGYM+
2. Using the new EGYM Trainer app to manage EGYM+
Requirements in the studio
This variant requires the use of the new version of the new EGYM Trainer app (earlier versions are not supported).

Member activation
Trainers can immediately activate/deactivate EGYM+ at the press of a button in the member's profile, as well as enter an end date or unlock unlimited use of EGYM+. The EGYM+ start date can only be immediate; a future date is not possible.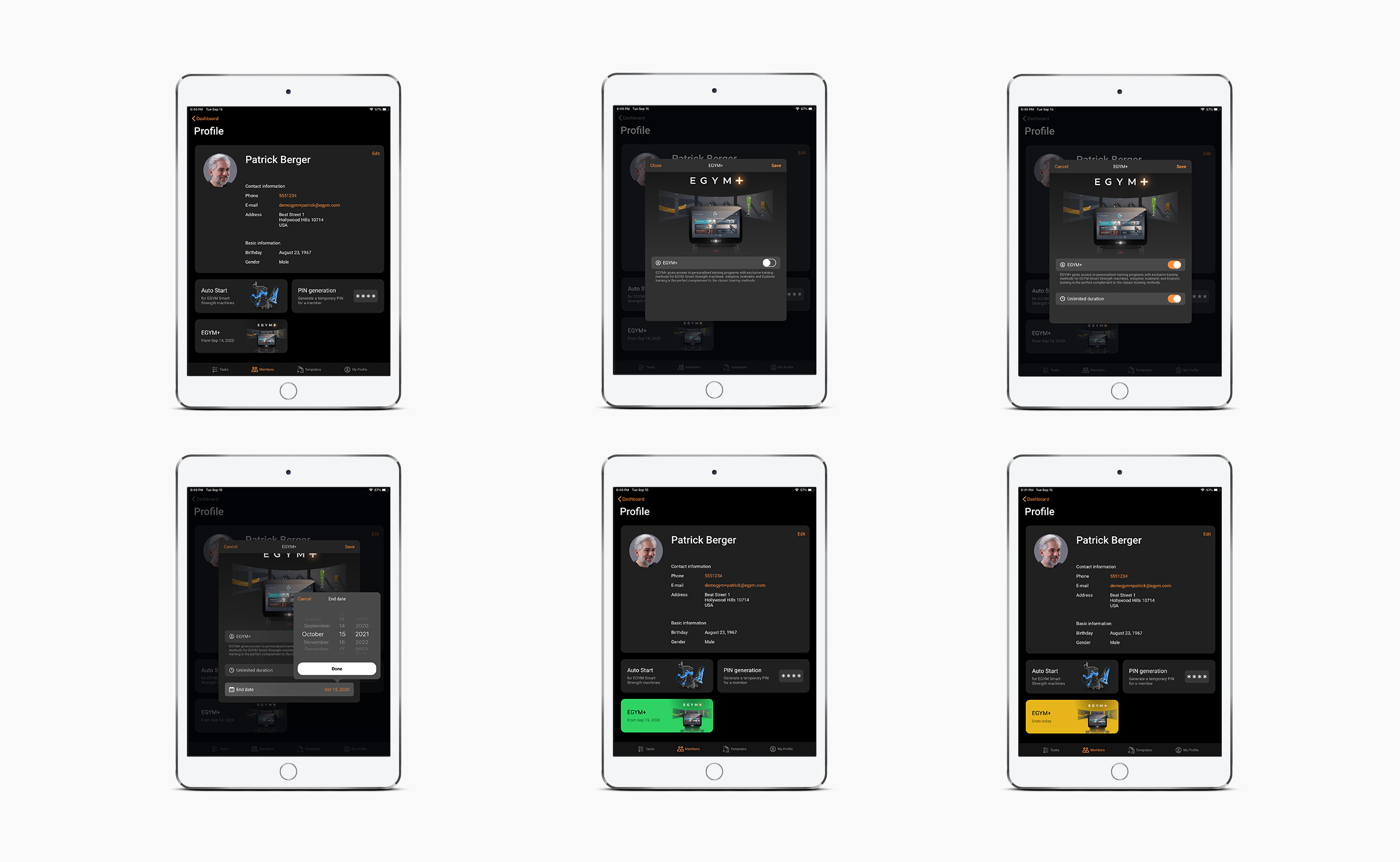 Note: EGYM+ is only visible in the profile if the studio has decided to manage it via the EGYM Trainer app. Learn how to proceed to make that decision.

Making money with EGYM+
The switch button in the new EGYM Trainer app does not update the contract type in the studio's management software, and no payment method is stored. This means that the contract must be changed manually for each member in the studio's management software.

In short: ideal for training control directly in the gym; for monetizing EGYM+, a manual step is necessary for each member