Smart Strength For Beginners
EGYM Smart Strength offers beginners maximum support with every set and repetition.
Are You Ready? Go!
Choose your goal and start working out: EGYM makes effective, guided, and targeted strength workouts possible, regardless of your experience level!
Clair wants to stay motivated
"I am aware that I need to take care of myself and exercise regularly. But it's hard for me to stick with it because I often lack motivation."
Jasmin wants more guidance
"I do strength training regularly, but I don't know if I have the right routine and I'm doing everything right. More guidance would be good."
Guided and Targeted Workouts
Maximum support for every workout, set, and repetition: With "Auto" and the EGYM Curve, beginners work out safely, correctly, and effectively. Simply select your goal, and off you go!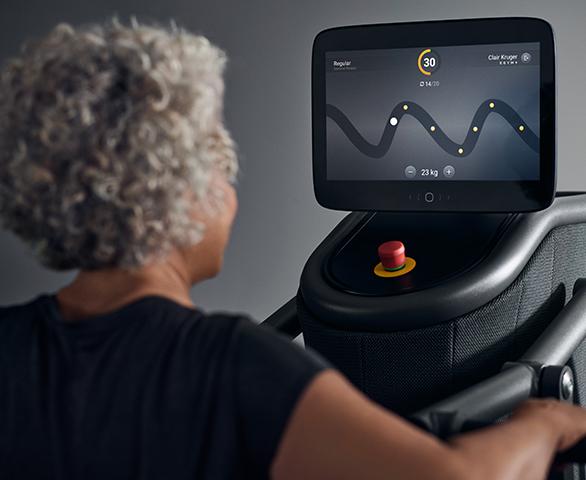 Maximum support during every workout, set and repetition.
Intelligent training programs set all parameters such as repetitions, weight and training methods.
Automatic periodization and recurring strength tests ensure effective workout stimuli and avoid plateaus.
The EGYM Curve: Correct exercise execution through supportive live feedback.
Motivating, intuitive progress visualization via the EGYM BioAge.
The Perfect Start for Beginners
"Auto" for beginners, offers a workout experience tailored to them. "Auto" combines effective strength training with a high level of user guidance via the EGYM Curve.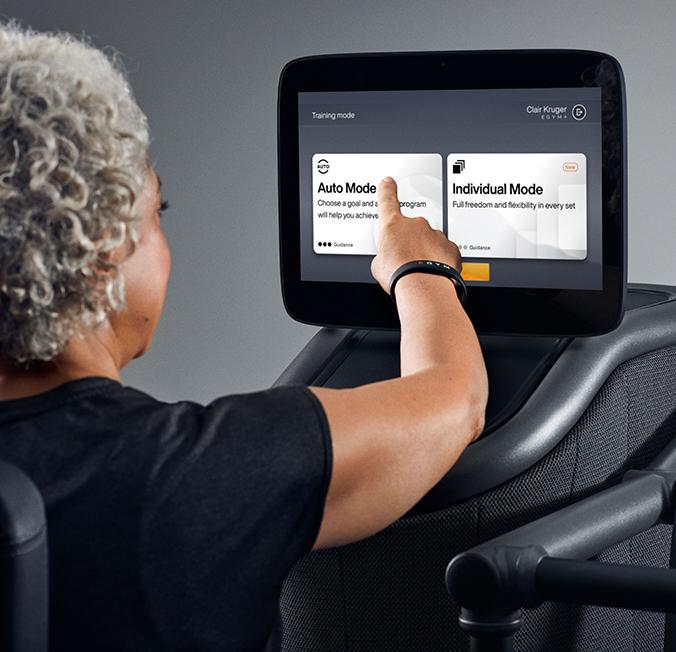 Workout mode: Auto
With "Auto", your members simply select their personal training program - from Immunity Boost to Muscle Building - and our intelligent programs guide them safely to their goal with varied, effective workout stimuli, including automatic periodization of our training methods and steady progression.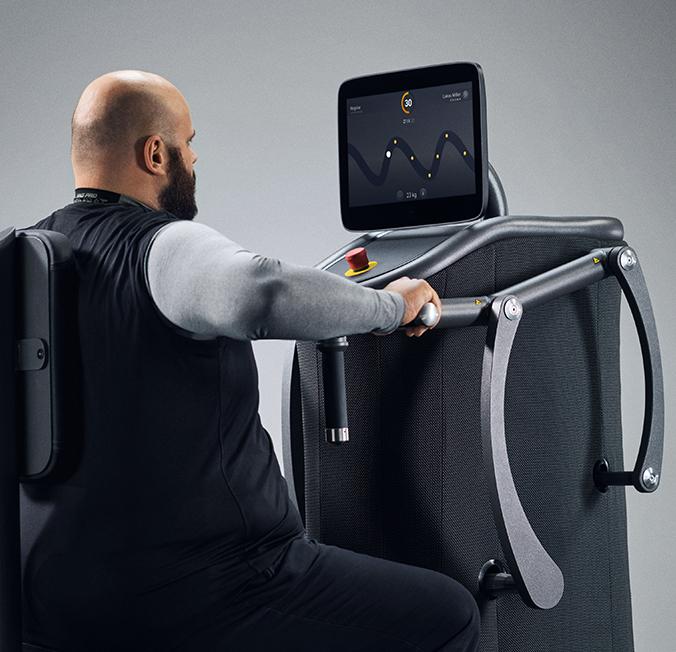 Promotes correct execution
The EGYM Curve enables beginners to perform exercises correctly. It helps them intuitively execute movements correctly. The curve's preview helps members anticipate the correct movement for optimal range of motion and time under tension and helps beginners build confidence in their abilities.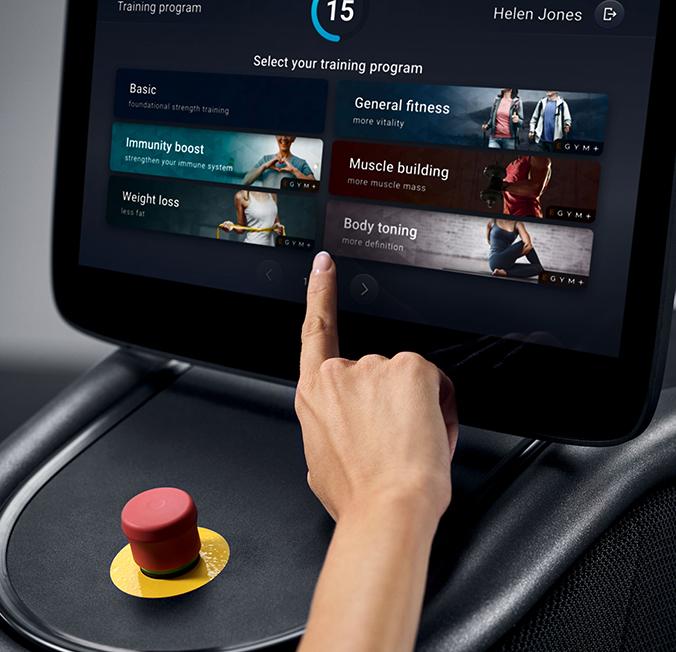 Makes workouts effective
Smart workout programs personalize your members' workouts to their goals. Different training methods are automatically combined and applied in sequence depending on the selected program. This way, your members work out in a scientifically ideal way from the very first session.
Select Your Goal and Start Working Out
The intelligent training programs guide members to their selected goals with varied and effective training stimuli. Weights, repetitions, and training methods are automatically adjusted for each session, and strength tests are performed regularly to ensure optimal training weight.
Immunity Boost
General Fitness
Weight Loss
Body Toning
Muscle Building
Athletic
Rehab Fit
Metabolic Fit
Immunity Boost
Intensity and progression controlled exercises that boost your immune defense.
General Fitness
Variable workout stimuli to maintain strength and physical vitality.
Weight Loss
High-intensity strength workout at consistently elevated heart rate and extended exercise times.
Body Toning
Strength endurance and hypertrophy workouts for toning and body definition.
Muscle Building
High-intensity muscle strain at low movement speeds for maximum muscle growth.
Athletic
Enhanced performance by developing speed strength and resilience.
Rehab Fit
Gentle rehabilitative training for physical ailments or injuries.
Metabolic Fit
Gradual intensification of strength endurance training to regulate blood sugar.
How Beginners Work out Safely and Effectively
Smart Onboarding with Fitness Hub
Efficient and touchless onboarding with automatic settings for all EGYM machines.
Automatic machine settings
After a simple login with the EGYM ID (card or wristband), the machine automatically adjusts to the user: Say goodbye to remembering complicated settings!
Select workout mode: Auto
All settings are automatically adjusted for each training session based on current performance and continuously adapted to progress.
Select individual training goal
Our EGYM Smart Strength Strength Strength machines create a training program individually adapted to the user depending on the chosen training goal.
Guided strength training
Simple animations, such as the EGYM Curve, help users perform movements correctly and at the correct speed, regardless of prior knowledge or experience level.
Continuous progress
Regularly recurring maximum strength tests determine the optimal weight on each machine and continuously adjust it according to the training success achieved.
Automatic periodization
Workout parameters, such as weight or duration, are automatically adjusted to the respective user depending on the training program.
Lasting motivation
Training progress is made understandable with the help of BioAge. And habit-forming features, like activity levels, help beginners form a routine.
Want More Details About Smart Strength?
We'll show you all the possible ways you can leverage Smart Strength for your fitness floor in a free demo.
Request Product Demo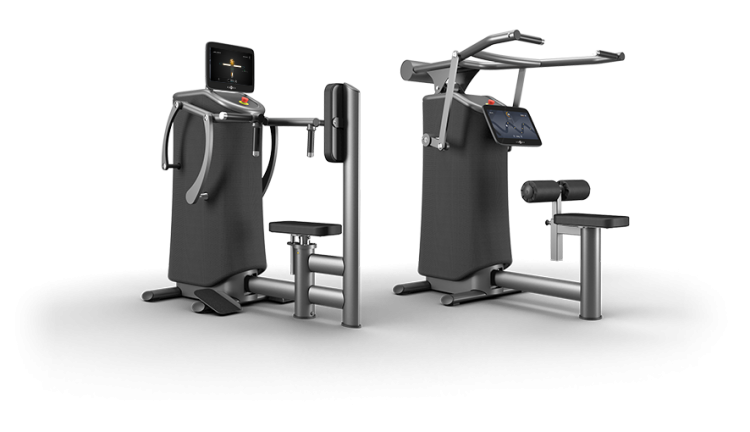 Explore Our Other Workout Solutions