Unleash Your Potential & Disrupt the Fitness Industry
Smart careers for real talents! Curious?
Who We Are
At EGYM, we are building a fitness ecosystem that personalizes the workout experience for exercisers of all experience levels. For real people with varying needs and expectations. Because we don't believe in heroes. We believe in real people, just like you.
Employees
> 400 EGYMees across multiple locations.
Offices
8 offices around the globe.
Nationalities
> 40 nationalities are part of our team.
Are You Ready for a Real Challenge?
As we continue to grow as a company and expand into new markets, we remain committed to our culture and our people. An open and collaborative work atmosphere is the name of the game for us.
EGYM Habits: How We Work Together
The EGYM Habits provide us guidance on how we work together every day - and are derived from all the unique stories we've experienced through our journey at EGYM. Together, we bring them to life.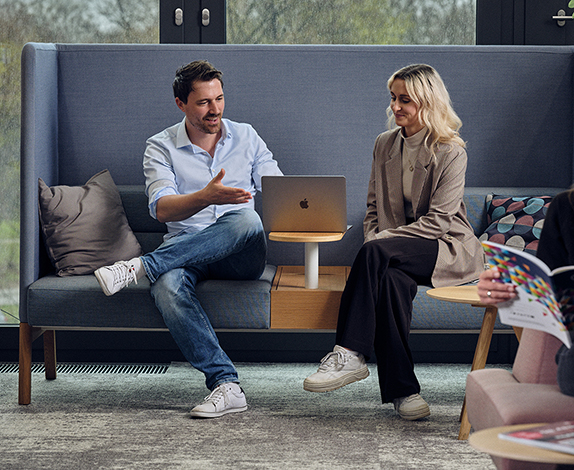 Our customers are at center stage.
We hold ourselves accountable.
We move swiftly & decisively.
We take care of each other.
We look in the mirror.
Find the Right Job for You
Being an EGYMee means helping shape the future of the fitness industry, our company, and you. We hire ambitious, forward-thinking people who want to make a difference. Want to join us?
View Open Positions
What EGYM Does for You and Your Career
We believe that every career path is unique. That's why we enable you to work in a way that suits you and your lifestyle and helps you get ahead.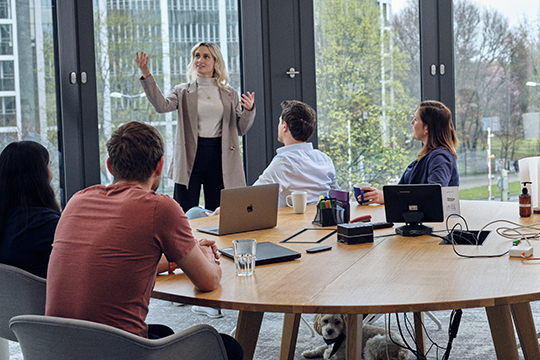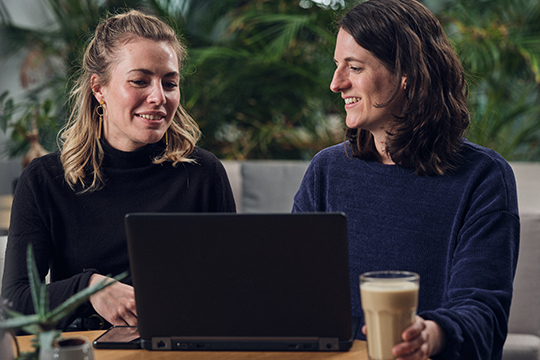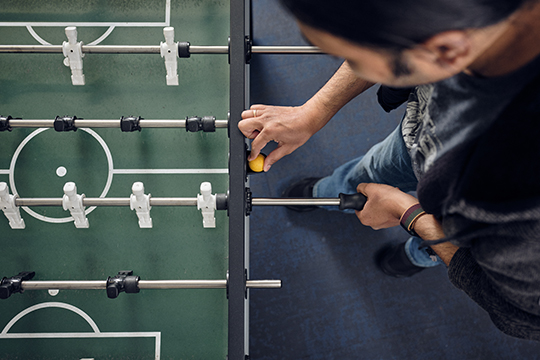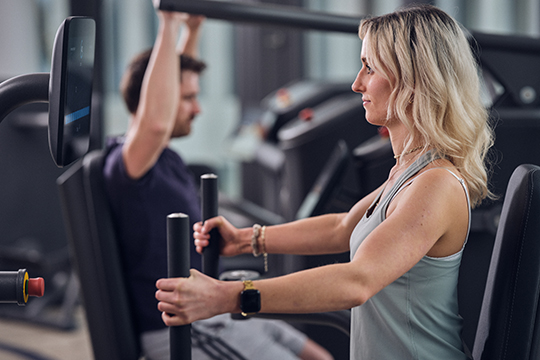 Growth opportunities
Internal trainings
Flexible working hours
Hybrid work model
Company & team events
Wellness stipends
Home internet stipends
Medical insurance
Dental & vision insurance
401(k) with company match
Paid holidays plus PTO
Check out Our Employer Reviews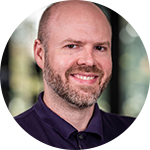 "EGYM provides me with the opportunity to make a real difference and to work with people who are passionate about improving themselves and hungry for mentoring. Nobody accepts standing still, as for us, "status quo" is simply not enough."

Jason - Machine Hardware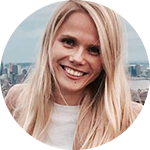 "What I love about EGYM is the combination of fitness & health, a variety of exciting products, tech, and internationality. By taking over diverse positions and working out of different offices across the world, I did not just contribute to the success of EGYM, but also grow immensely in my career."

Nadine - Product Management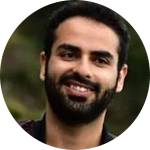 "Being at EGYM allows me to work on highly innovative products that I use myself in my spare time - it is great to combine my personal interest in fitness with my professional experience. On top of that, EGYM has a great working environment with a culture of no blame where mistakes are embraced, and challenges are mastered together in the team."

Pinak - Software Engineering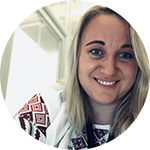 "As a startup, we worked so hard to bring our organization to a certain level. It's exciting to have a mature company behind us now and to be part of something big that provides an entire suite of solutions to our clients."

Liuba - Customer Operations

Get to Know Our Teams
Our teams are like our products: Connected, smart, and fun to work with!
Our Offices Around the World
EGYM is more than just a global company. Our international teams can be found all over the world.
Germany
Austria
Switzerland
Great Britain
France
Spain
Netherlands
USA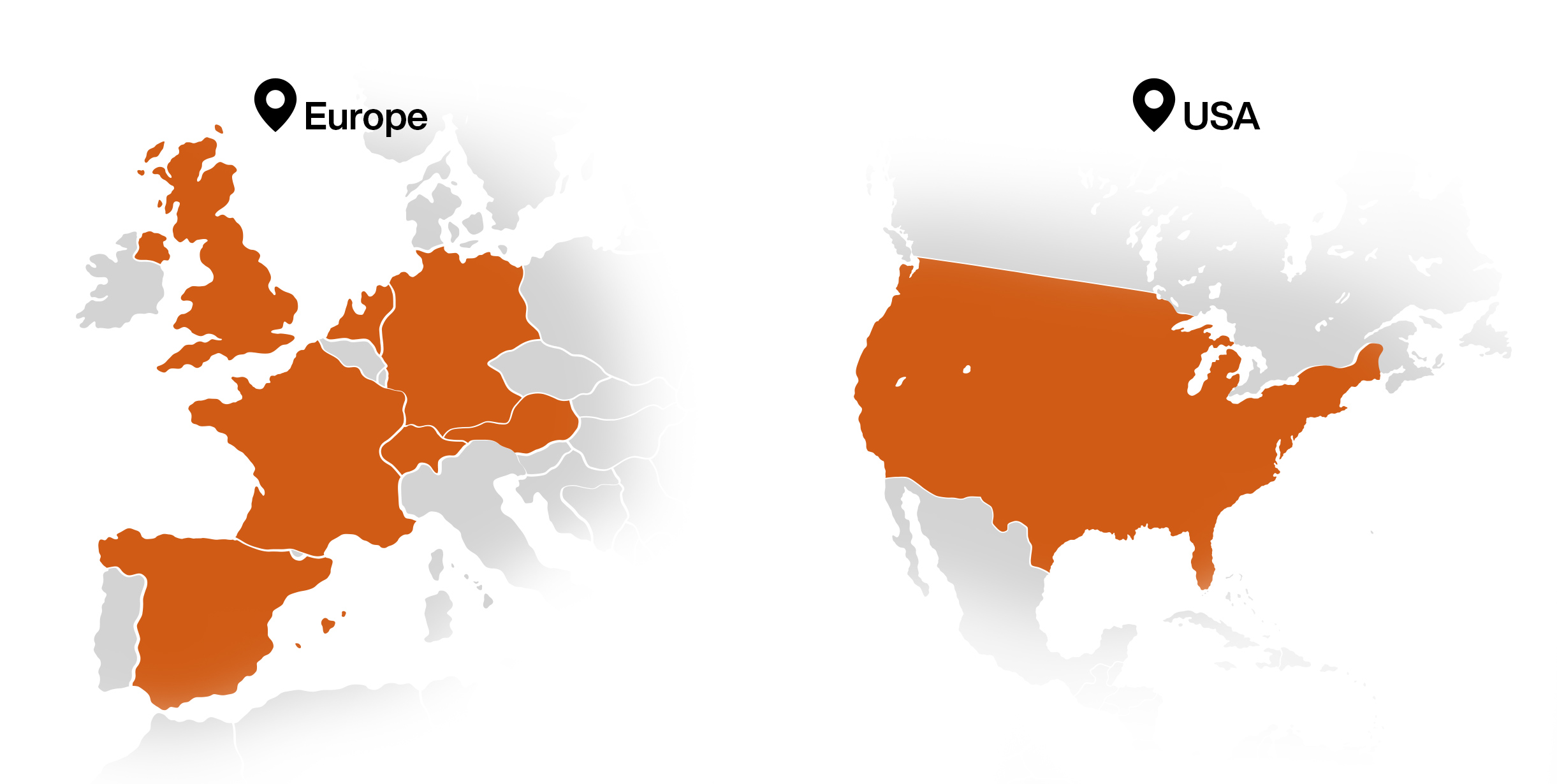 This Is Our Recruiting Process
Apply with us
Take a look at our open positions and click on "Apply now." If there is no suitable vacancy, feel free to send us an unsolicited application.
Cultural Interview
In an initial interview with one of our Talent Acquisition Partners, we would like to get to know you better as a person and give you some insights into the role.
Professional Interview
This is where you will meet your manager and sometimes teammates. Depending on the position, it may be combined with an assignment or a trial work day.
Final interview
Meet a manager or teammate and learn more about our strategy and goals as a company.
You get an offer
Congratulations, we want you on board! We'll discuss the offer with you over the phone and then send you all the contract documents.
Any Questions? We Will Answer Them.
Of course you can! We appreciate your initiative! Feel free to send your application to jobs@egym.com. Please also indicate which areas at EGYM you are interested in. We look forward to receiving your application!
Feel free to send them to jobs@egym.com
As a rule, you will receive a response within a week. Sometimes decision-making processes can be delayed a bit, which we will inform you about if necessary.
Your data is visible to the HR department and the respective Hiring Managers in accordance with our privacy policy. They are automatically deleted after 3 months and only stored longer with your consent. 
The interviews will mainly be about getting to know you better as a person and giving you more insight into the position. The cultural interview will focus on your soft skills, and further interviews will focus on your professional skills. You can find more details about our recruiting process a bit further up the page.
Professional trainings are possible and will be individually tailored to the employee.  In line with our habit, "We take care of each other," we also offer internal trainings for employees who want to share their experience and knowledge with other employees. 
You will receive all the information about your first day at EGYM a week before you start. In the beginning, it is mainly about getting to know the EGYM world and gaining knowledge about our products. Further onboarding is designed by each department individually according to the needs of each role and is a combination of onboarding by colleagues and supervisors and on-the-job workouts. 
Jobs that are as smart as you are!
Find your next job, send us an inspiring application, and become part of our team. We are looking forward to meeting you!
Apply Now