EGYM Cloud
Whether members are working out on EGYM products, integrated partner equipment, or using member apps and wearables – the EGYM Cloud enables a fully connected workout experience and progress tracking across our entire ecosystem.
A Connected Workout Experience and Digitized Processes
From EGYM Smart machines to connected partner cardio equipment and management software, virtually everything in your facility can be connected via the EGYM Cloud. Members can even connect apps and wearables they use outside of the gym – creating a seamless workout experience for your customers. The EGYM Cloud also enables access to workout data that helps trainers enhance their coaching and makes workflows more efficient for operators and staff alike.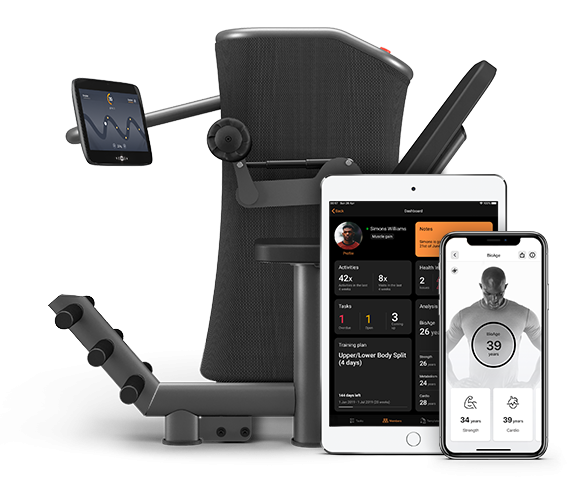 EGYM Cloud and EGYM apps automatically sync all the member workout results generated on EGYM machines, all connected equipment and compatible apps.
Customers use their EGYM ID to log in to connected partner cardio and strength euqipment, so all workouts are tracked in one place via the EGYM Cloud.
Member workout data is recorded and translated into motivational features accessible for your members at all times—in the gym, and anywhere they go.
Data from integrated body analyzers helps create more detailed member profiles and craft more tailored training plans.
Member profiles are automatically created via interfaces to your management software in visible e.g. in the EGYM Trainer app, for optimal workflows.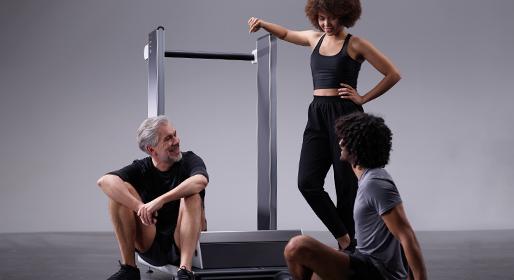 For Operators
Benefits
Freedom to choose equipment and software
Reduction of repetitive processes
Future-proof, open platform
Deep integration to enable a smooth member experience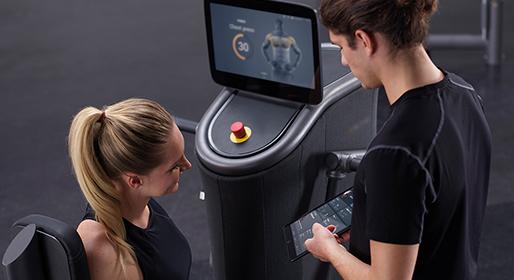 For Trainers
Benefits
All member data in one location
Available on the training floor via the EGYM Trainer app
100% digital = no more paper and pen
Automated work process reduce workload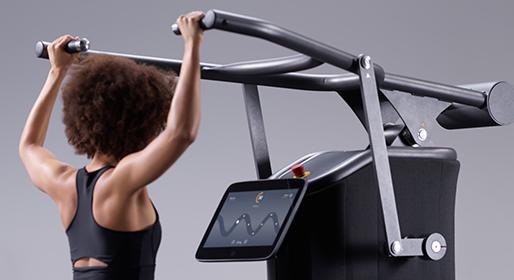 For Members
Benefits
All workout data in one location
Compatible with most apps and wearables
Easy interpretation of workout progress
Motivational features that support the development of lasting habits
Connect To An Infinite World of Possibilities
As an open platform, the EGYM Cloud is open to all equipment manufacturers and software providers. To date, over 100 partners worldwide connect to the EGYM Cloud, and their number is constantly growing.
Management Software
All member profiles are automatically created in the EGYM Trainer app and EGYM+ can be switched on or off via interfaces to your member management software.
Go To Integrations
Cardio Equipment
Members can log in with their EGYM ID or RFID on all our connected partner equipment. The EGYM Cloud and EGYM apps document the entire workout. Smart Cardio-compatible machines offer members access to the whole EGYM experience, including performance tests, training programs, gamification, and more.
Go To Integrations
Strength Equipment
Members log in with their EGYM ID or RFID on all connected partner strength equipment. The EGYM Cloud and EGYM apps then document the entire workout.
Go To Integrations
Body Analysis
Body analysis results from compatible partner equipment are recorded in the EGYM Cloud to enable easy access by trainers and members via EGYM apps or the EGYM Fitness Hub.
Go To Integrations
Apps & Wearables
All member workout data is recorded and included in training plans - in the gym and on the go.
Go To Integrations
Would You Like To Use the EGYM Cloud in Your Gym?
A Selection of Our Partners



















Want To Become an EGYM Integration Partner?
Explore Other EGYM Solutions