Updated Terms of Service & Privacy Policy
We are updating the Terms of Service and Privacy Policy for our end-users. To help you better understand the upcoming changes, we have summarized them for you below.
SUMMARY 
The EGYM Terms of Service and Privacy Policy have been comprehensively and completely updated to reflect the collective EGYM product world. The updated Terms of Service and Privacy Policy will apply to all end-user products EGYM offers.
The update generally accounts for the merged operations of, and combination of products from, EGYM and Netpulse and addresses the fact that the current versions were created prior to offering joint products and services. 
The new Terms of Service and Privacy Policy will replace the current Terms of Use and Privacy Policy of Netpulse Inc. for the Branded Member App.
HOW YOUR MEMBERS GET INFORMED 
We have updated the Terms of Service and Privacy Policy that are shown to new users on September 15th, 2020. All members that have created an EGYM or Netpulse account prior to that date need to be informed about the changes. 
Therefore, starting February 1st 2021, we will roll out pop-up screens to the EGYM Smart Strength machines as well as to the Branded Member Apps. The roll out to the Branded Member App requires an update of your app which might lead to a time gap between the appearance on the machines and on the app.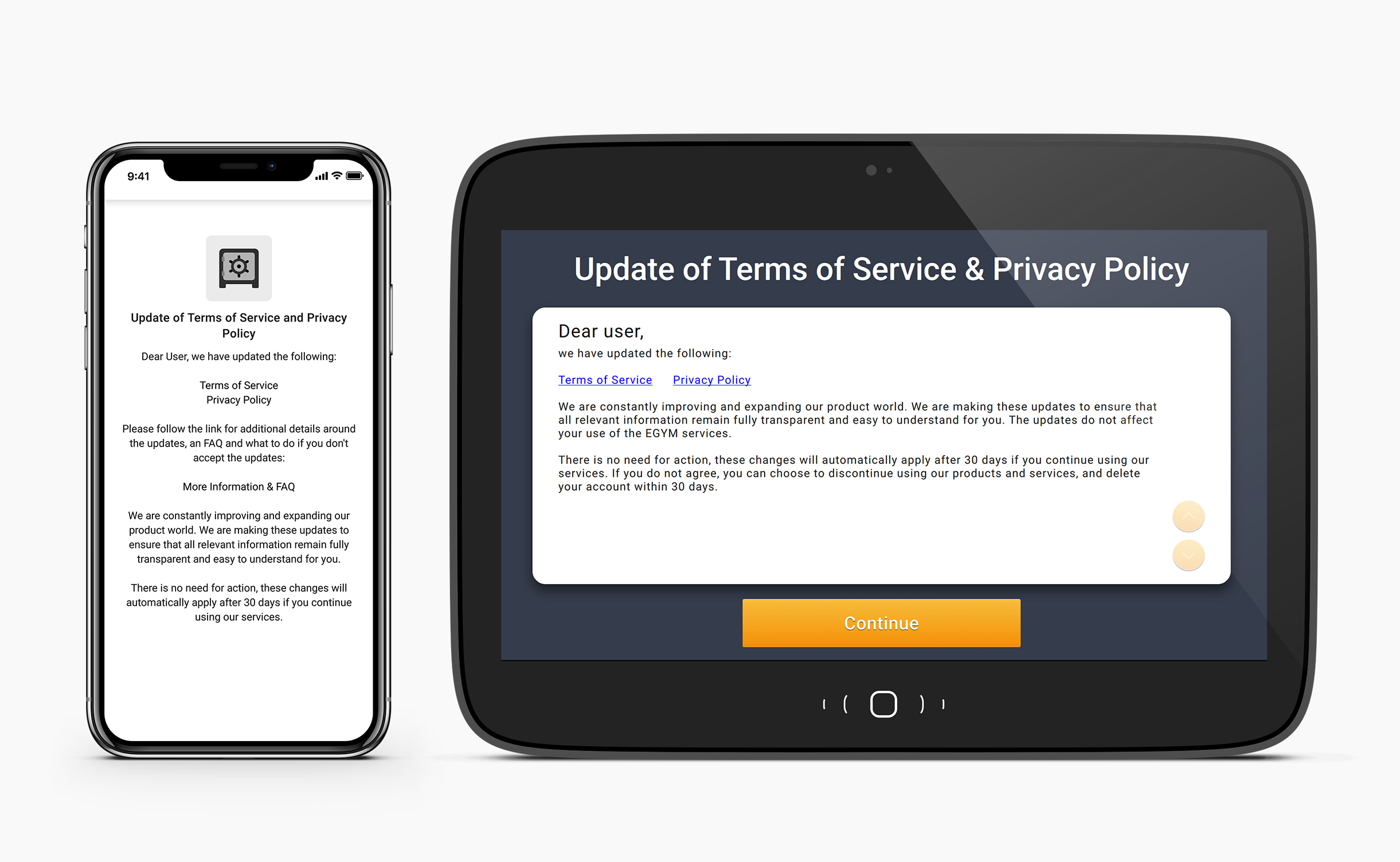 The screens will appear when a member opens the app or logs in to one of the machines. It includes information about the change and links to a FAQ page for members that provides more details. When a member closes the screen, it will not appear again.
WHAT IS CHANGING?
You can find below the link to the new versions of the Terms of Service and Privacy Policy as well as a summary of the changes that were done. 
Simplification: A lot of our users come across EGYM's various products in different ways, e.g. via our Smart Strength machines or our Branded Member Apps, and had to agree to several different Terms of Use and Privacy Policies. To simplify the usage of all our EGYM end-user products, we combined our Terms of Use and Privacy Policies into a unified Terms of Service with EGYM Inc. being the sole contractual partner of the end-users for all EGYM products, so the end-user only has to accept one set of Terms of Use and one Privacy Policy for all EGYM products irrespective of the end user's "starting point" in the EGYM product world. 
Transparency: Developing the new set of Terms of Service and Privacy Policy we worked especially on an easier structure and made our legal documents easier to read and clearer for our end users. Whichever EGYM product the users get in touch with first, they will find the information they need in the Terms of Service and Privacy Policy for the respective product easily as each product is described separately with all information the end user requires to make an informed decision before using the EGYM products.
Privacy: Respecting the privacy of our users remains one of our biggest assets and we reorganized the privacy policy in a way designed to make the policy more clear for our users. We also revised the policy to better explain our relationship with our customers, including where we act as a service provider on their behalf. We also clarified how any information collected directly through any EGYM operated sites, apps, and equipment is subject to the privacy policy.  
California and Nevada Disclosures: Residents of California and Nevada have new rights under the law.  Specifically, California residents have the right to know certain details about our data practices, delete the personal information we have collected from them, and opt-out of the sale of their personal information.  We added Sections 14 and 15 to the privacy policy to address these new laws.