Your Success With Gameday
Don't worry, we've thought of everything: with our step-by-step implementation plan, we guarantee you a smooth start with Gameday for your gym.

With our step-by-step implementation plan, we guarantee a smooth start with Gameday for your studio.
Your Path to Success
We'll guide you from start to finish on the road to a successful Gameday implementation. With the following 6 steps we guarantee you a smooth start with Gameday:
Strategy Meeting
Goal setting, Gameday set-up, elaboration of schedule & gym to-do's
Technical Preparation
Club conditions, technical requirements
Workout
Staff training, process sequences, surface preparation
Internal Marketing
Internal communication, introductory event, customer presentation
Gameday Launch
Activation, leaderboard activation, member onboarding
External Marketing
External marketing campaign to attract new members
Everything You Need to Know for Your Start With Gameday.
The goal of the strategy meeting is to discuss individual goals and create a joint project plan for the launch of Gameday and the EGYM solution. 
The following checklist will help you prepare for a successful Gameday launch:
❑ Strategy meeting arranged with concept consultant (including discussion of goals, Gameday set-up, machine selection, schedule).
❑ Technical infrastructure in place and checked (e.g. WiFi network, power connections)
❑ Training date scheduled with our Customer Success Team to best prepare your staff for the new studio processes.
❑ Is your marketing and communication plan ready? (For tips on how to implement it, check out our Gameday Marketing Kit).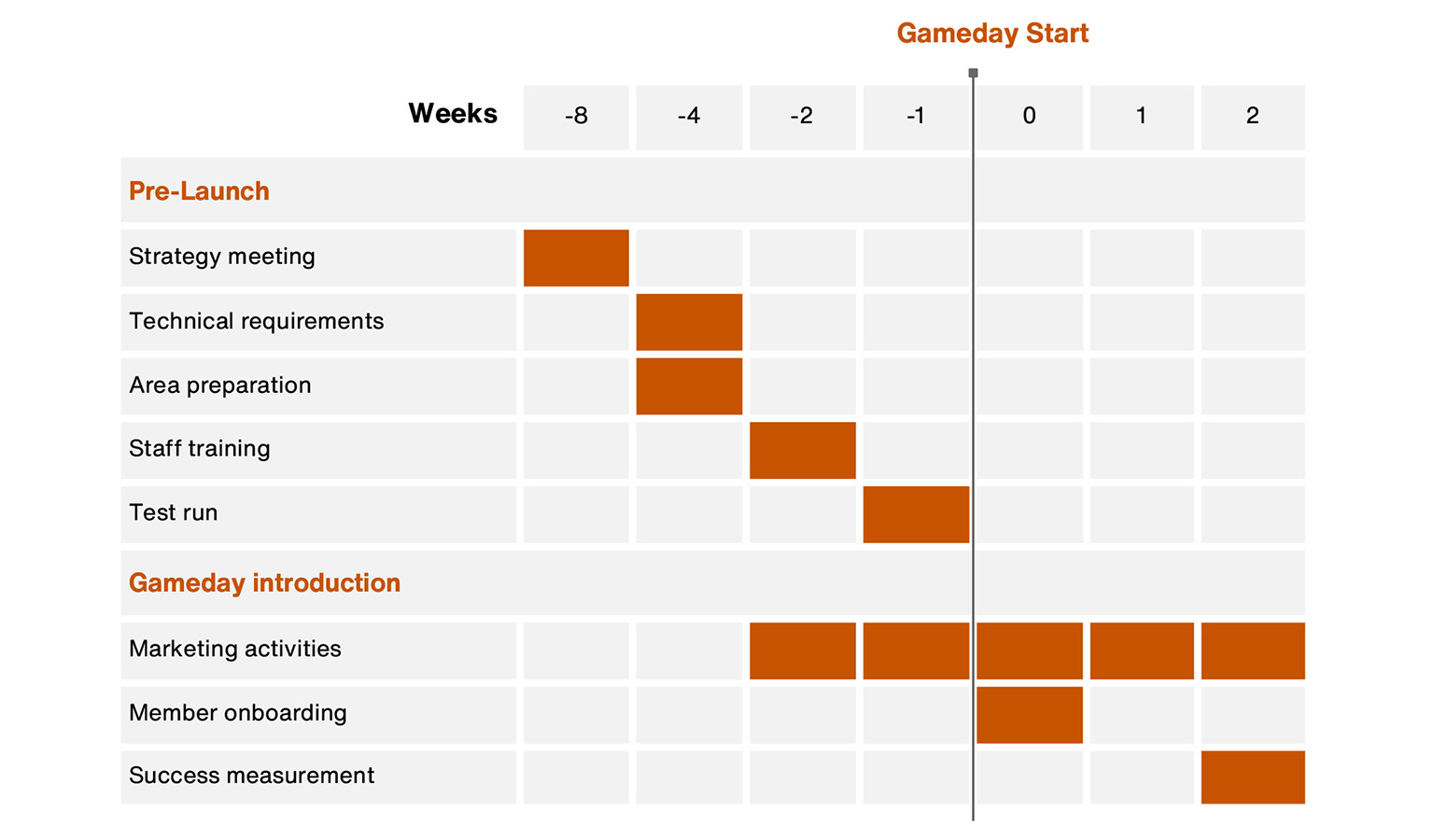 Important Milestones for Your Gameday Launch
Gameday is available as a free software upgrade for EGYM customers who have the following EGYM setup in their gym:
Smart Strength in Open Mode (including Guest Mode)
Fitness Hub
Branded Member App (possible from Basic)
(additional) Smart TV with access to the Internet browser to display the leaderboard.
(recommended) active interface to management software.

Exemplary gameday setup on the floor
The following implementation notes are intended to provide you with guidance on technical implementation and are highly recommended to ensure that your members' customer journey runs as smoothly as possible without additional staffing:
Smart Strength
To use Gameday in your gym, the following configuration must be enabled for your Smart Strength machines:
Smart Strength machines enabled in Open Mode and Guest Mode.
Recommendation: EGYM+ activation to automatically unlock the EGYM trial.
 
Branded Member App
In order for your members to experience Gameday in your gym, they need the Branded Member App. Why? Because after Gameday, members can view and save their evaluations and results in the app. 
The minimum requirement for Gameday is the Branded Member App Basic variant. If you don't already have the Branded Member App, please check with your customer success manager for the necessary steps to implement the Branded Member App.
For the best member experience, we recommend our Branded Member App Advanced. This will give you your own personalized gym app in the app stores and further strengthen your member loyalty.
 
For an overview of the features of the Branded Member App variants, please here.
 
Management Software
For a smooth operation, make sure there is an active interface between EGYM and the management software and that the following features are enabled: 
Auto-Sync enabled: Automatic creation of the EGYM account by transferring the master data and membership information.
Transfer of RFID medium for automatic login to EGYM equipment.
Recommendation: Activation of EGYM+ via the member administration.
 
An overview of the functionality of your studio management software for EGYM can be found here.
Leaderboard
The leaderboard is updated automatically and always shows the top 5 members per gender and exercise. Follow these steps to see the leaderboard on your TV screen:
Log in to the EGYM Business Suite with your account details.
Click on "Settings" to go to the TV leaderboard section.
Adjust the settings like "Language" or the displayed units (kilograms or pounds) and click on "Save changes".
Copy the URL link of your gym leaderboard.
Open the internet browser on your Smart TV and enter the URL in the search field. The current leaderboard will now appear on your screen.
 
Note: In the Business Suite, you can reset the leaderboard and download your members' results at any time.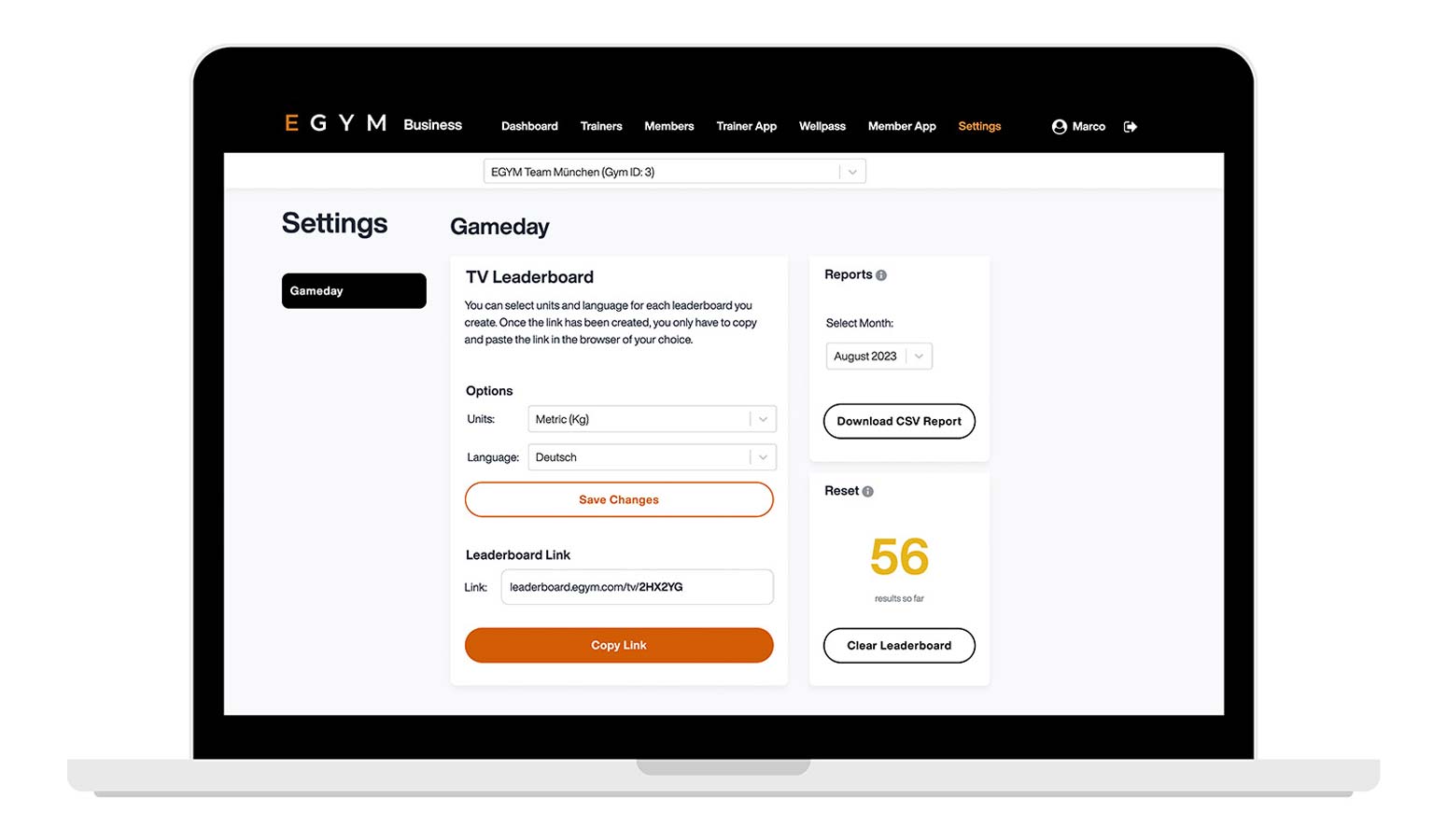 Staff Training
To ensure that your team is optimally prepared for Gameday, we offer you training by our Customer Success Team. The following contents are part of the Gameday training:
Product theory of Gameday (What, How, Why)
Process flows & introduction strategy of your members
Practical application and implementation 
Marketing (e.g. end customer presentation, internal & external marketing campaign)
Pro Tips
Leaderboard
Positioning:

A TV screen should be placed in the Gameday area, at a highly visible height;
TVs in the locker rooms or free weight area are recommended to get more attention from advanced exercisers and everyone in the gym.
 

In the downloaded results list, you will also find additional data points (such as age of participants) that can help you create your own leaderboards.

Fitness Hub
Positioning

Should be accessible to everyone in the gym and not located in a separate room.
Should be placed near the Gameday area so that members without EGYM accounts can view and save their results on the Fitness Hub after the Gameday demo.
Smart Strength
Gameday "Performance" area: select 3-4 EGYM Smart Strength machines (e.g. chest, biceps, rowing, leg press) and separate them from the Smart Strength machines in the Open Mode area. Use this Gameday area for promotions (e.g. events) and highlight it with additional marketing materials.
Branded Member App
Use our marketing materials and place them in your gym to promote the use of your Branded Member App, even before members try Gameday.
Use the push notification feature to alert your members of an upcoming Gameday.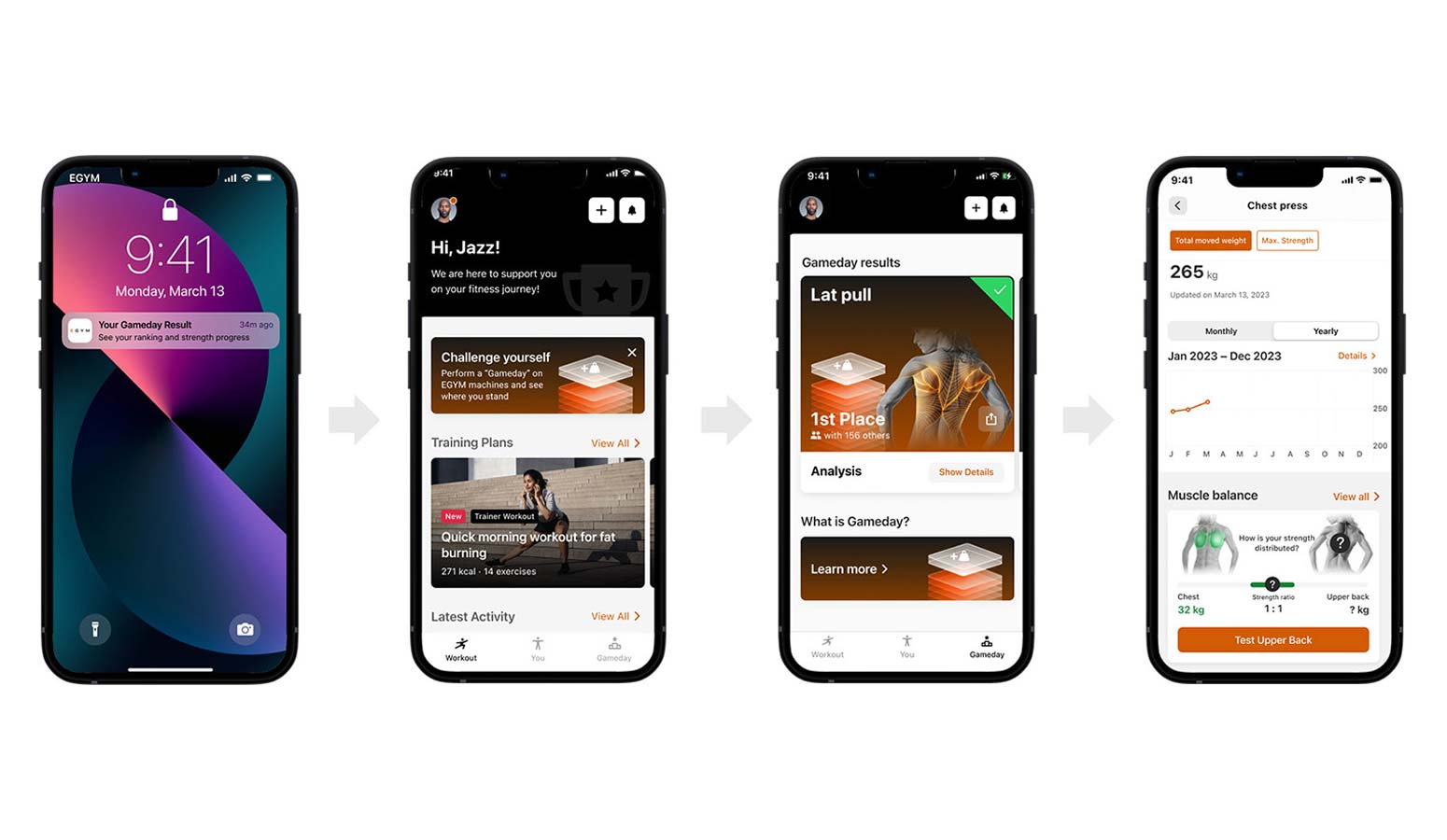 Your members' customer journey in the Branded Member App
 
Even before the first member tries Gameday at your gym, we'll give you the support you need to market your new gym innovation so that everyone inside and outside your facility hears about it and the Gameday launch at your gym is a huge success! We have developed an exclusive marketing campaign for you, with which you can optimally market Gameday in your gym. The package includes rollups, posters, stickers as well as text and image materials for social media, email newsletters, websites and much more. In addition, there are ideas for app challenges, referrals and new customer acquisition. You'll also get a detailed guide on how and when to use the campaign and create your own authentic Gameday content.
Get the exclusive Gameday Marketing Kit here.
Are You Ready to Bring Gameday to Your Gym?
Click below for more info on EGYM's innovation for smart workouts in your gym.
Learn More