EGYM Trainer Updates
This is an overview of all product updates of the EGYM Trainer App.
Why?
Before trainers could not specifically search for members based on criteria, such as only show those currently in the gym. As a consequence, it was challenging for trainers to find members they did not know the full name of.
What?
We've added filters that allow finding members based on criteria:
Trainers are able to filter for members who are currently in the gym so they can care for those members specifically
Trainers can filter for members using connected equipment such as Smart Strength and Smart Flex
More convenient filters will follow
Why?
Members tend to just hit the "quick start" button instead of taking the time and effort required to follow an elaborate training plan that their trainers might have created for them, but would require a member to manually enter numerous values on the cardio console. This results in wasted time of the trainer creating such a plan, and a less effective workout for the member.
What?
Trainers can now design a tailored training plan for connected cardio machines right on the new EGYM Trainer App (e.g. duration, distance, speed, etc.). This training prescription is available for the member to select, thus making the "quick start" trainer smart for an effective workout on the cardio machine for the member without any extra effort.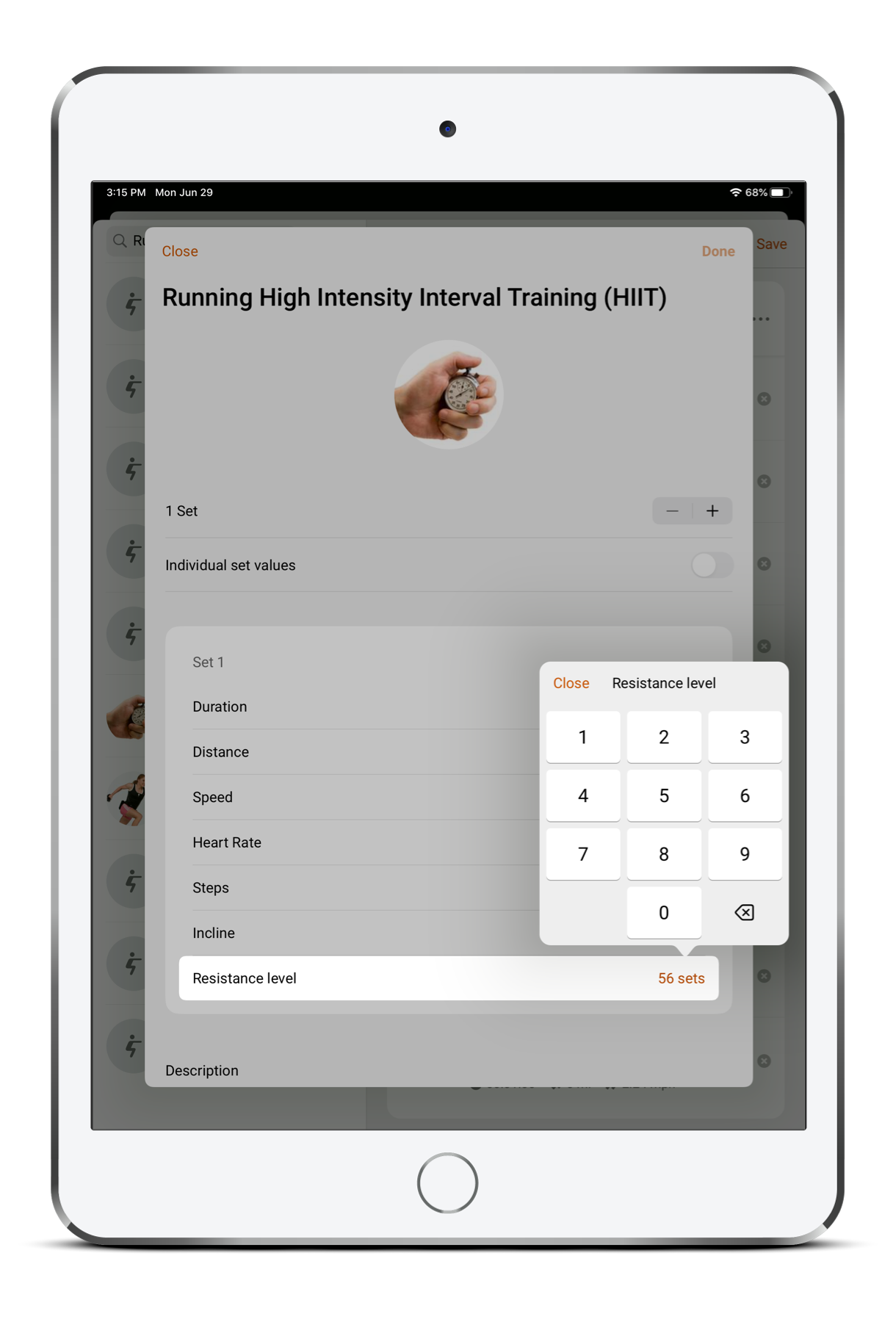 Why?
Not all members can be served by a task chain template/standard procedure alone
Some tasks may be outdated or not valid for a specific member
Trainers need to see when tasks have been performed for a member in the past to correctly care for them in the future
What?
Trainers can manually create single tasks for members as one-offs or specific non-standard procedure tasks
Trainers can now dismiss tasks to keep the member care correct
Trainers can see the "completed by" date in the member task list of solved tasks to understand the member care history
Why?
Trainers need to guide members properly in their training journey when progressing on EGYM Smart Strength equipment.
What?
Trainers can activate EGYM+ training for members right in EGYM Trainer App, whether that's for an unlimited time or until a certain date, as well as deactivate it again.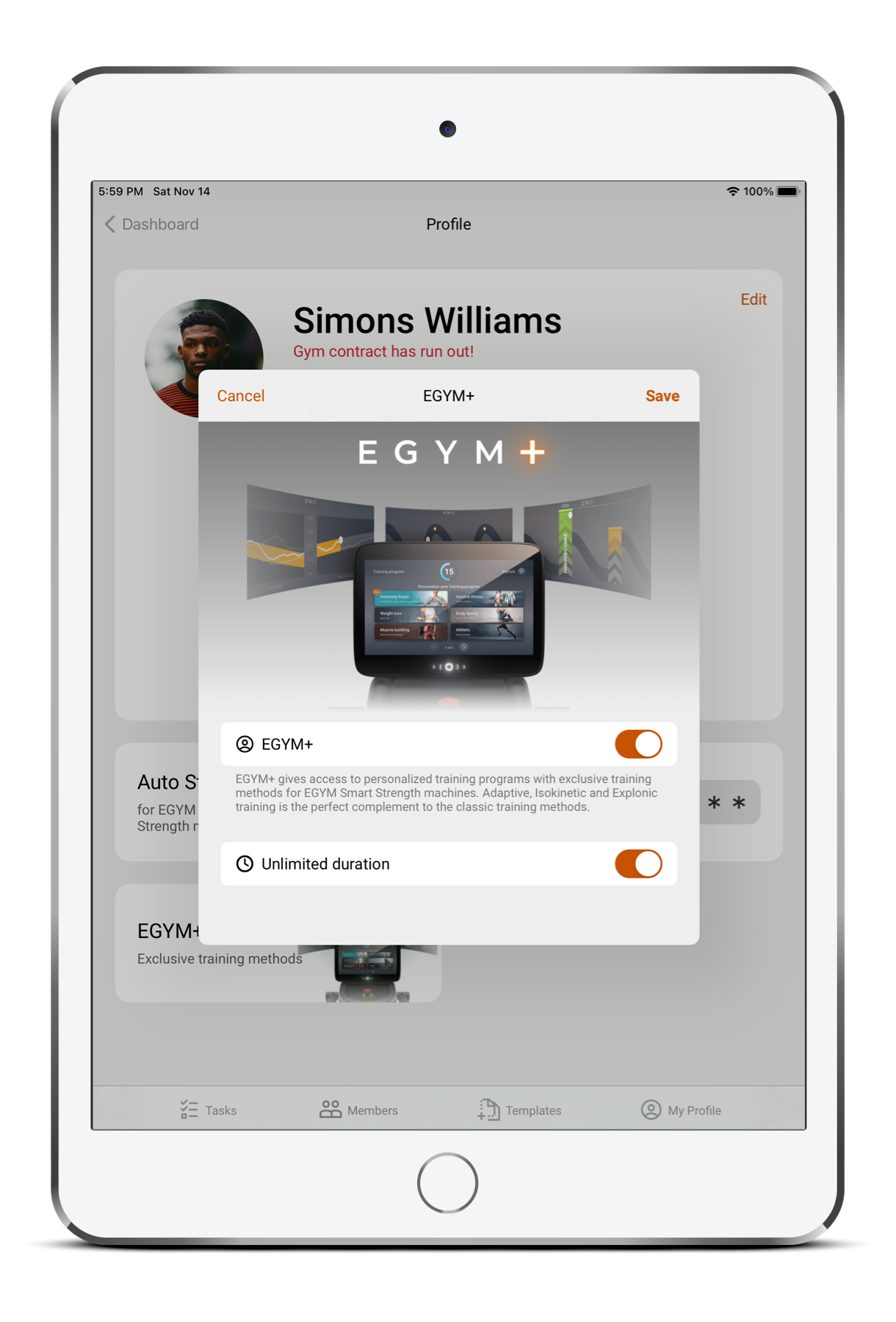 Why?
Previously it was not possible for trainers to see where a measurement in the BioAge is coming from, e.g. whether from a connected device or entered manually.
What?
Trainers can now see the source of a measurement, whether it's from the EGYM apps, a connected piece of equipment from EGYM, or from a connected partner.
Why?
Trainers experienced that some members are shown a different BioAge than trainers in the apps. The reasons for different values are differences in the profile data between Branded Member App and EGYM Trainer App which we need to partially keep separated for privacy reasons.
What?

Two improvements that we could implement:
Sync data when possible, e.g. at the member creation
Prompt to set date of birth and gender in the Branded Member App and EGYM Trainer App, which are crucial for the correct BioAge calculation, and a difference here will lead to different values displayed
Why?
While trainers can use EGYM Trainer to create new accounts for new members, some newly joining members might already have EGYM accounts, but which are not yet assigned to the current gym and thus not present in EGYM Trainer. 
What?
Trainers can now "invite" members that already have an EGYM account to their current gym by entering the email address of this member. If an account exists, the member can verify by entering their EGYM password, thereby connecting to the new gym.